"Failure to plan is planning to fail."
Whether it's human error or natural disaster, the results are the same; day-to-day business has been interrupted. The only way to avoid this is to create a proactive, strategic plan to assure a quick, complete and cost-effective recovery!
Is your plan in place?
Proactive planning for smooth continuity of critical and essential processes is good business practice for any industry - including Banking/Finance, Healthcare, Manufacturing/Distribution and Transportation/Logistics. Whether it's an inconvenient disruption or a major catastrophe, it's not a question of if it's a question of when.
At FDI Consulting Inc., our staff of highly trained professionals implements our proven methodology for developing comprehensive continuity management programs. We understand the importance of assisting our clients in the development of unique, client-specific solutions to the potential challenges they face in mitigating risk, reducing the threats and eliminating the vulnerabilities that can impact operations. With clients ranging from Fortune 500 firms to small, entrepreneurial businesses, we help ensure organizational resiliency that will endure real life business challenges and disasters.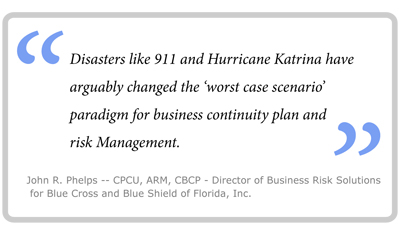 We'd welcome the opportunity to tell you how FDI Consulting can help you protect your business/organization.
Call: 402.850.9321 or
E-mail