Continuity Management
A Continuity Management program is smart business - it provides assurance to customers, business partners, employees and shareholders that your business is prepared to serve their needs. We've developed an exceptional, common sense approach to Continuity Management programs:
Business Continuity
Technology/Disaster Recovery
Crisis Communication
Emergency Action Plans
Pandemic Preparedness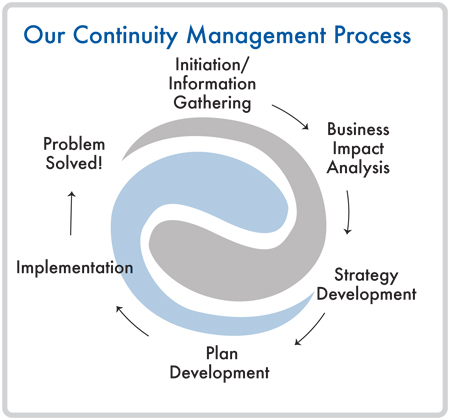 Custom Continuity Management Program Development
- Our professionals focus on identifying the functions, processes and resources critical to your operations, while also identifying your risk exposure and the associated vulnerabilities. We work with our clients to develop comprehensive business continuity strategies necessary to resume and sustain critical operations if an unplanned event occurs. Our approach is a cost effective alternative to other, more expensive service providers in the market.
BCPro™ Software
- We've developed an even more affordable, self-guided business continuity program that is as equally effective for small businesses as it is for large organizations. The BCPro™ toolset, based on our proprietary methodology, has been developed and is continually updated to meet industry best practices. Unlike other providers' templates, we include the support of our certified and professional staff, who will perform an in-depth quality review for each element of your response and recovery plan. Industry specific BCPro™ Software products include:
BCPro™ Enterprise
BCPro™ Smallbiz
BCPro™ Healthcare
BCPro™ SupplyChain
BCPro™ Bank/Finance
We'd welcome the opportunity to tell you how FDI Consulting can help you protect your business/organization.
Call: 402.850.9321 or
E-mail